Dan Moretti
2017 Inductee into the Rhode Island Music Hall of Fame
https://www.youtube.com/watch?v=n2tbfMOnWT4
Dan Moretti has had an exciting musical journey as a player, composer, producer, author and educator.
We hope you take the time to click through and discover some things that you probably never knew.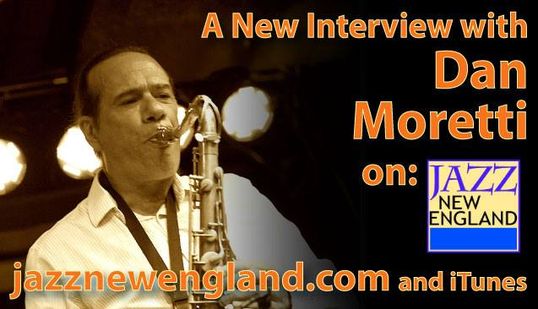 Discography as a leader or co-leader *
Dan Moretti Tres Libre Rootsgrooves 2021
The Sonic Surfers Dan Moretti & Steve DeConti Rootsgrooves 2020
Dan Moretti "Invoke" Jazz Quartet and Strings Dodicilune 2018
Dan Moretti & The Hammond Boys, Roots Grooves Records (2014)
Dan Moretti and The Piccola Orchestra La Viola, Dodicilune (2011) *
Tres Muse, Foundations Jazz (2010)
Foundations, Foundations Jazz (2009)
Passing Place, Whaling City (2005)
Stories, Whaling City (2003)
Latin-Genesis, Whaling City 2002 *
The Psychic Horns, Whaling City 2001 *
Once Through, Whaling City 2000
That's Right, 1201 Music 1999
Impressions, D.A. Music 1996
Dan Moretti & Brazilia, Live at Chan's, D.A. Music 1995 
December Solstice, D.A. Music 1995
Psychic Horns, CD Rom Q-Up Arts 1995 *
Saxual, Par Records 1994
Back to the Groove - Wayne Henderson Par Records 1992
Point of Entry, Par Records 1991
Sometime Inside, Black Hawk Records 1987
Some of the people Dan has performed along side :
Sweets Edison, Nat Adderley, James Moody, Jimmy Cobb, Ernie Watts, Paquito D'Rivera, Mike Stern, Mark Egan, Dave Liebman, Marvin Stamm, Ernie Watts, Don Braden, Wayne Henderson, Bernard Purdie, Omar Hakim, Nile Rodgers, Ben E. King, Solomon Burke, The Temptations, The Four Tops, Little Anthony and the Imperials, George Duke, Cornell Dupree, Jerry Jemmott, Less McCann, Buddy Williams, Dr. John, Ray Charles, Aretha Franklin, Chaka Khan, Steve Khan, Stevie Nicks, Steve Winwood, Robert Plant, Kid Rock.
Biography High Lights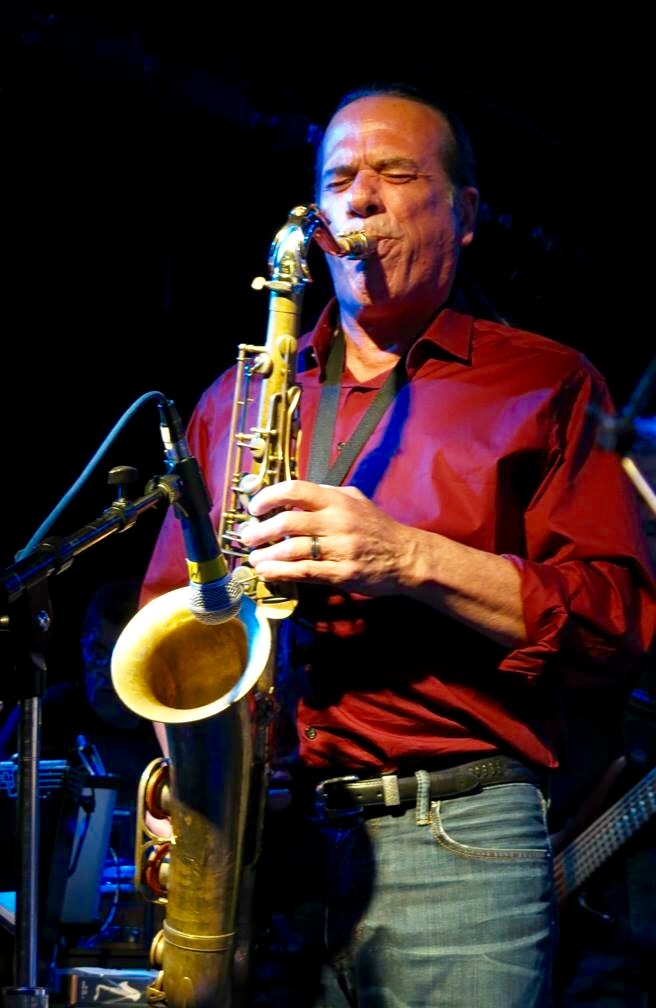 History:
At the age of 12 he was invited to perform in the Rhode Island Youth All-State Jazz Band where he played at the world renown Newport Jazz Festival . This was the beginning of a life-long passion to perform, write and produce music. During his high school years he was part of a band called The Pump House Gang that played all Jethro Tull and Roots Blues memorizing tunes from vinyl while self-teaching himself the flute.  After high school Dan attended the University of Rhode Island for 2 years where he was the first saxophone major.  On full scholarship Dan then attended Rhode Island School of Music (RISM).  From 1974-1976 Dan toured with a 9 piece funk band  "Back Bay Brew" . In 1978 Dan completed his BA degree in Music Education with a minor in Arranging-Composition from The Union Institute in Cincinnati.  As part of his degree plan Dan started the first instrumental music program at The Alternate Learning Project, Providence's alternate high school (ALP) where he lead the ALP band playing funk jazz and the then new style of music "Hip-hop"   Throughout the mid 70's and the early 80's he continued to perform and teach in Rhode Island and in the North East United States.  His love for jazz grew with performances in Jazz Odyssey, a big band that did Monday nights at the famed jazz club Allary in Providence, as well as being a member of the Milestones Quintet which played at Allary regularly in the late 70's.  Also during that time Dan continued performing as a sideman with some of the Soul and R&B stars of Atlantic Records and Motown including: Ray Charles, Aretha Franklin, Ben E. King, The Four Tops, and The Temptations to name a few.  Throughout the 80's Dan continued to teach privately and in the local school systems and music schools in the Southern New England area.  In 1981 he became co-owner of Celebration Sounds in Pawtucket Rhode Island where he honed his engineering, producing and composing skills for the following 12 years producing and writing commercial music and artists across music genres. During that time he recorded and produced his first 5 albums as a leader. 
In 1985 Dan's recording career was launched with the international release of "Sometime Inside" recorded at Celebration Sounds in Pawtucket.  This all original self-produced fusion-jazz recording was released on the Black Hawk Records label of San Francisco.  Along with straight-ahead players Stan Getz and Phil Woods Dan became Black Hawk's "Fusion" act.  This first recording truly gave Dan his international profile, which was evident when he was asked to autograph this 1st recording in 1989 after a concert in Yaroslavl, Russia.
In 1989 Dan traveled to Yaroslavl Russia as part of "The International Arts for Peace" organization.   In 1991 Dan won the 2nd annual Phoenix reader poll for "Best Local Jazz" and "Best Local Producer" and in 1992 he won again "Best Local Jazz". 
Jazz Exploded in the early 90's in Providence greatly to do with Dan's efforts.
The 90's were the Renaissance era in Providence.  Dan led the way with the famed Sunday and Monday night series at Amsterdams on South Main street where there lines outside on the sidewalk to get in even in the winter snows.  The Fish Company on Tuesday nights and in addition booking 7 nights of Jazz at The Westin Hotel Jazz Room in Providence, bringing in regional and national talent and playing there with his various groups.  It was during this time that Dan was awarded numerous citations from the Governor and House of Representatives in Rhode Island and the Mayor or Providence for his contributions to the music scene and the promotion of jazz in Rhode Island. Some of the Awards he received during that time were: "The State of Rhode Island and Providence Plantations" Citation in 1991 from the RI House of Representatives in recognition of is efforts to promote jazz locally and nationally, "The Proclamation from The City of Providence" in 1994 and  "The State Proclamation from the Governor in 1994" for the promotion and performance of Jazz in Rhodeisland.  For 7 years from 1992-1999 Dan was the artistic director and one of the main performers for "Jazz and Blues at The Pier" and annual free summer festival co-sponsored by the town of Narragansett and Washington Trust Bank. In 1996 Dan was hired as an Assistant Professor at Berklee College of Music in Boston where he is now a Full-Time Professor in Contemporary Writing and Production department. 
In the early 2000's Dan started the first all-female jazz-rock band at Lincoln School for girls where he remained active for 7 years.
Throughout his career Dan has toured in the United States, Europe, Africa, Asia and Russia performing and presenting clinics and seminars.  His musical influences range from jazz and classical to funk and Latin-jazz and New Orleans grooves.  Since the late 70's, he has performed or recorded with a variety of artists across the musical spectrum.  A short list includes: Aretha Franklin, Ray Charles, Robert Plant, Kid Rock,  Dr. John, Cornell Dupree, Jerry Jemmott, The Temptations, Mike Stern, Omar Hakim, Jimmy Cobb, Dave Samuels, Dave Liebman, Marvin Stamm, Nat Adderly, and The Crusaders, Dr. John and Nicholas Payton. 
Dan's love of all styles of jazz has contributed to his performances in straight-ahead jazz as-well-as Latin, funk and soul.  This is evident throughout his current collection of 19 solo recordings.  In 2009 Dan was awarded the prestigious  MacColl-Johnson Fellowship for Jazz Composers getting a $25, 000 dollar grant through the RI Foundation which enabled him to write and produce a project in 2011 with an Italian traditional orchestra called The Piccola Orchestra La Viola (POLV), bringing together his musical and Italian roots. This CD was released on an Italian label called Dodocilune.  In the summer of 2011 Dan returned to Italy to perform a tour in support of the release.  The latest CD "Dan Moretti & The Hammond Boys" live at Chan's was released in 2014 and hit #13 nationally and was on the CMJ radio charts for 20 weeks.
As stated before Dan has been on the faculty at Berklee College of Music in Boston since 1996 and currently is holding a full time position as Professor in the CWP(Contemporary Writing and Production) department.  He was given the school's "Curriculum Development Award" in 2006 for his popular on-campus course "Groove Writing".  He has also been at the forefront of distance learning at Berklee where in 2003 he created the Berklee Online (Berklee's distance-learning school) version of his course called "Arranging Contemporary Styles" and has been teaching this course to students all over the world.  In 2012 he converted this same course back to Berklee with one of the first on-line on-campus courses.  In 2008, his book "Producing and Mixing Contemporary Jazz" was released on Hal Leonard-Berklee Press.  In 2010 Dan collaborated with Matthew Nicholl and Oscar Stagnaro on the book "Essential Grooves" for Sher Music, which is required for all Groove Writing sections at Berklee. . 
For the last 16 years Dan has been active in Europe and the states performing his music and presenting seminars in Italy, Turkey, England, Belgium, Holland, France, Switzerland, Ireland, Africa, Ecuador and Gibraltar as-well-as being a sideman with artists like Nile Rodgers and Chic.  In the summer of 2006 he had the opportunity to perform in the house band at the 40th anniversary of The Montreux Jazz Festival tribute to Atlantic records with Nile Rodgers.  This was also a full circle experience being that that's where it all began for Dan.  The performers he played with which included Dan writing charts and backing up were: Robert Plant, Stevie Nicks, Chaka Khan, Kid Rock, George Duke, Solomon Burke, and Steve Winwood.
On the Educational front Dan has traveled throughout the world doing auditions and clinics for Berklee College of Music in Boston in places like: Kenya, Ecuador, France, and Asia.  He was the co-founder of the Gibraltar Jazz Workshops that were introduced in 2012 in Gibraltar.  He has presented clinics and done performances at the International Association of Jazz Educators (IAJE) conferences, and The Jazz Educators Network (JEN).  In the summer of 2016, with the support of Alex and Ani, Dan initiated the first free summer jazz workshop at Sakonnet Vineyards in Little Compton, RI.  
Dan is a Yamaha and Vandoren artist and can present a diverse set of clinics and seminars including: Master Classes, Improvisation, Ensemble Performance Techniques, Composing, and Producing.
Dan is a BMI affiliated composer and owner of Morean Music and has an extensive catalog of published music including 2 books and an online course.
Dan's technology production skills include: Digital Performer, Pro-tools, Logic, Finale, iMovie, Final Cut Pro, and a variety of other production related software. Dan has been fortunate to have been a bridge between the analog to digital revolution and brings this life experience to all his current work.